Basic consumer rights in Greek taverns and restaurants
On the occasion of the upcoming holiday season, the Consumer Protection Union of Crete (Ένωση Προστασίας Καταναλωτών Κρήτης) recalls the rights enjoyed by tourists and other people using catering facilities in Greece. In several concise points are included the basic aspects to pay attention to in this type of places.
Each facility is obliged to have a menu with price detailing. It must be made available to guests before the order is placed. The menu should also be displayed on at least two tables not occupied by guests.
It is worth noting that the price list must be available in Greek . Adding translations in foreign languages is completely voluntary. As consumers, you can not require the presence of a price list in English or Polish.
The price list or menu must also be available before entering the facility.
The menu must include the total costs of individual dishes, which will be consistent with the amounts on the bill.
For each individual dish, appropriate information must be provided (κατεψυγμένο, frozen) where the fish or seafood constituting one of the ingredients were previously frozen. The special designation (προμαγειρεμένο, pre-cooked) also covers those dishes that are served as pre-cooked meals.
Salads served in a given restaurant or tavern must have a detailed list of ingredients.
If oil or oil is used in the dish, its name must be specified in the ingredients.
Although on Crete it seems quite unobvious, in the light of the law, the possibility of electronic payment must be available in every facility.
There must be no additional fees on the invoice, including items such as services (σέρβις, service). This remark also applies to bread and oil traditionally served. If you do not want to, you do not have to use it and in such cases you can not be charged for it. However, leave a tip if you want to appreciate the work of the staff who served your table. Usually, the tip is 10% of the order value.
This organization also encourages you to ask for a bill every time. If it is not issued, we have the right not to pay for the completed order.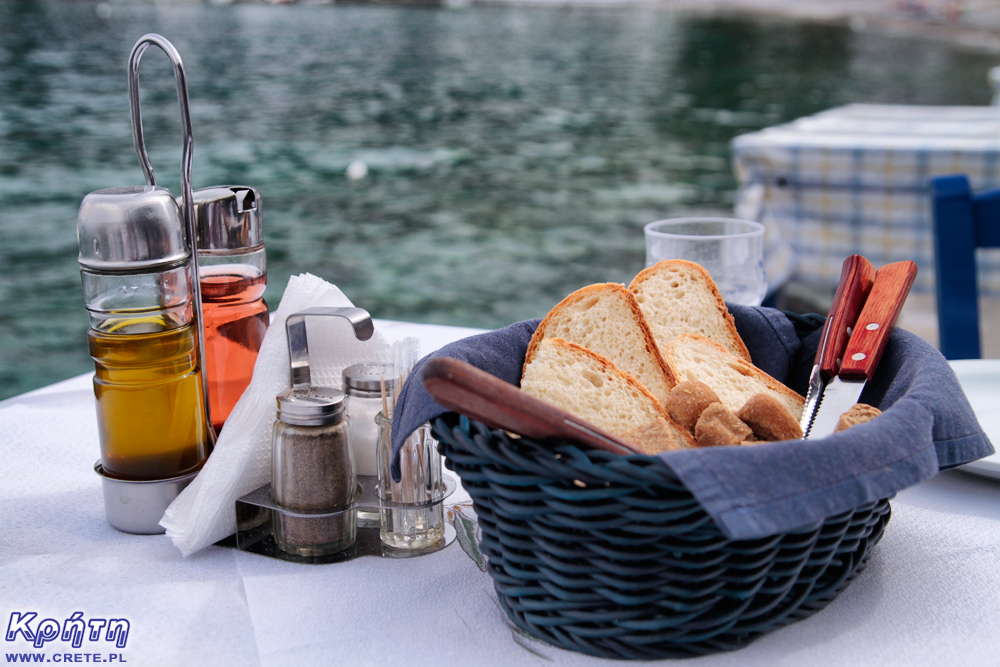 Bread and olive oil is one of the additions often appearing on tables in Greek taverns
If you did not order them or use them, you should not be charged an additional fee
Knowing your rights, however, remember to use common sense. Each person has the right to make mistakes that are not always the result of ill will or deliberate action. For our part, we know that it is usually enough to pay attention to the problem or mistake. It is also worth being forgiving for the electronic forms of payment that are not always available in Crete. A broken power network or poor coverage of the Internet or mobile telephony cause that not always such operations carried out with the help of the card can be booked.
Consumer Protection Union in Crete is a non-profit organization fighting for the rights of local consumers. As part of its activities, it provides free consultancy services and limited legal support. More information, unfortunately, only in Greek can be found at: http://enosikatanaloton.blogspot.com/
More basic information about leisure in Greece and Crete can be found in our extensive article entitled " Tourist Necessary ", which is devoted to this topic

2019-06-09 19:03:14
see other news from this month »
Wszystkie treści i zdjęcia występujące w serwisie są naszą własnością.
Wykorzystanie ich w dowolnej formie wymaga pisemnej zgody autorów.